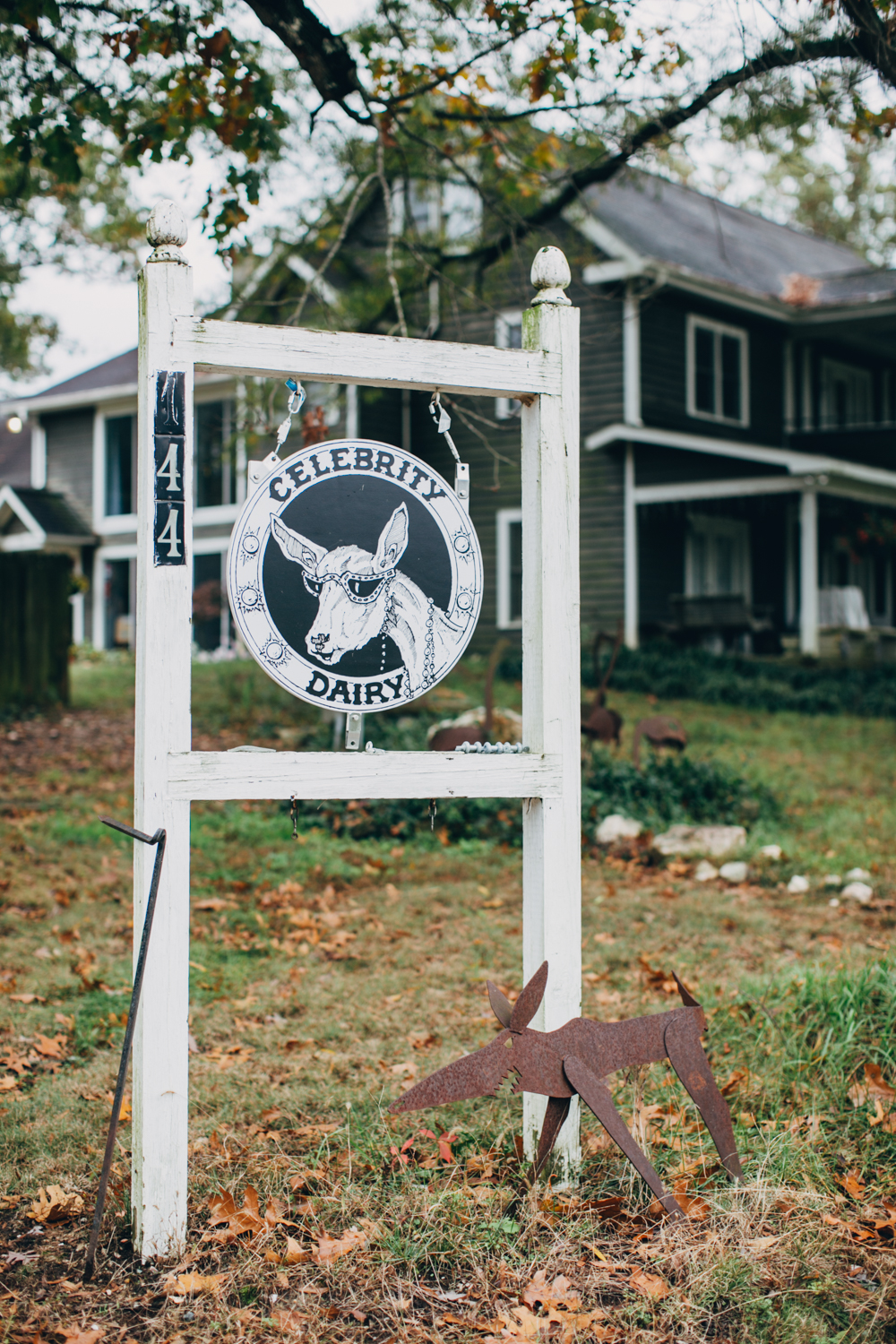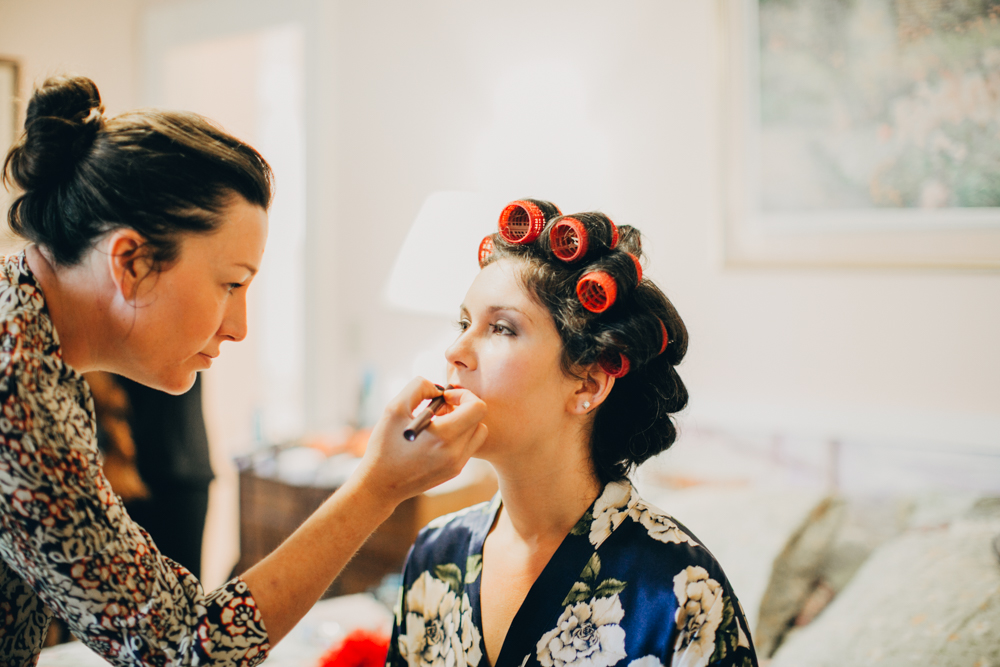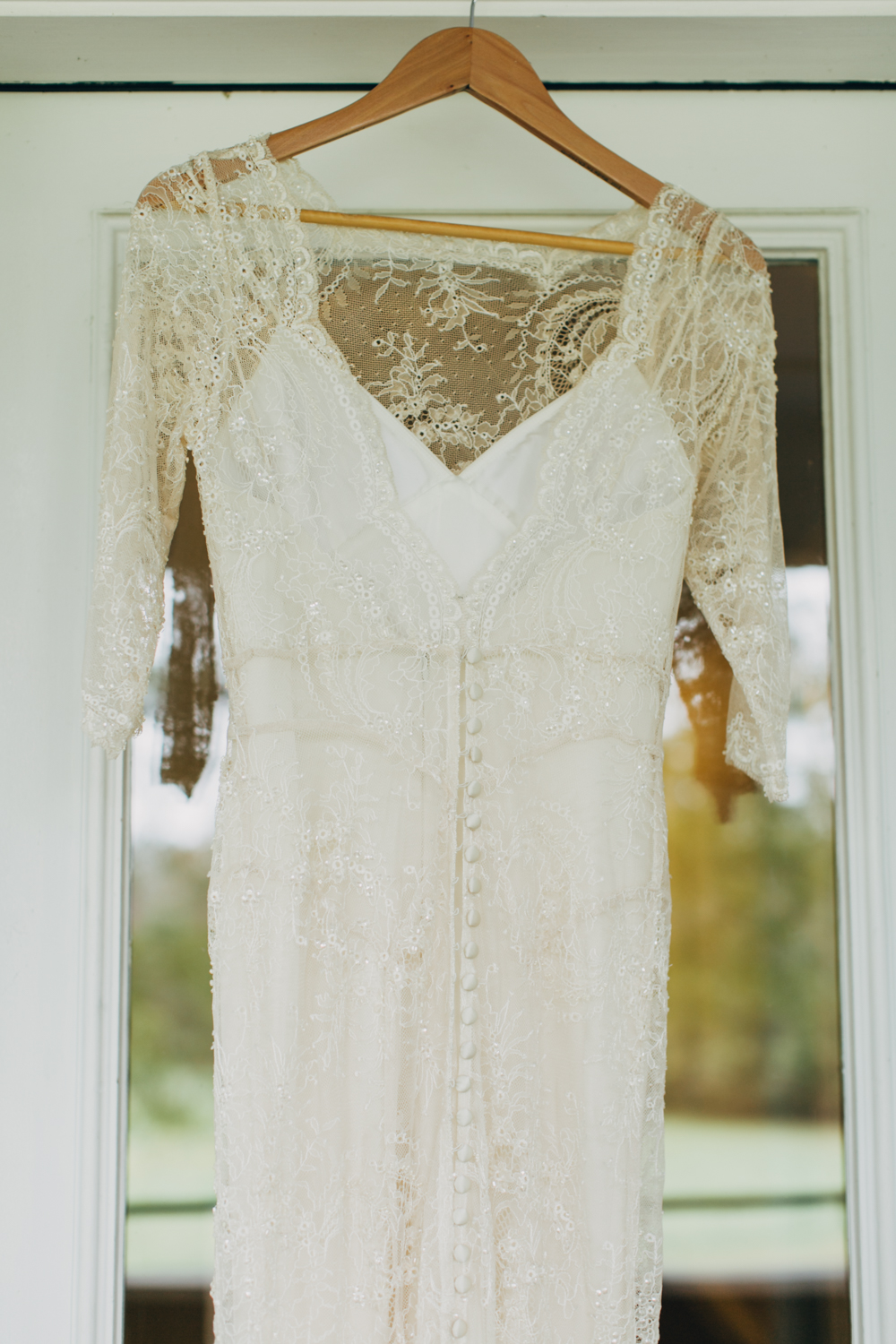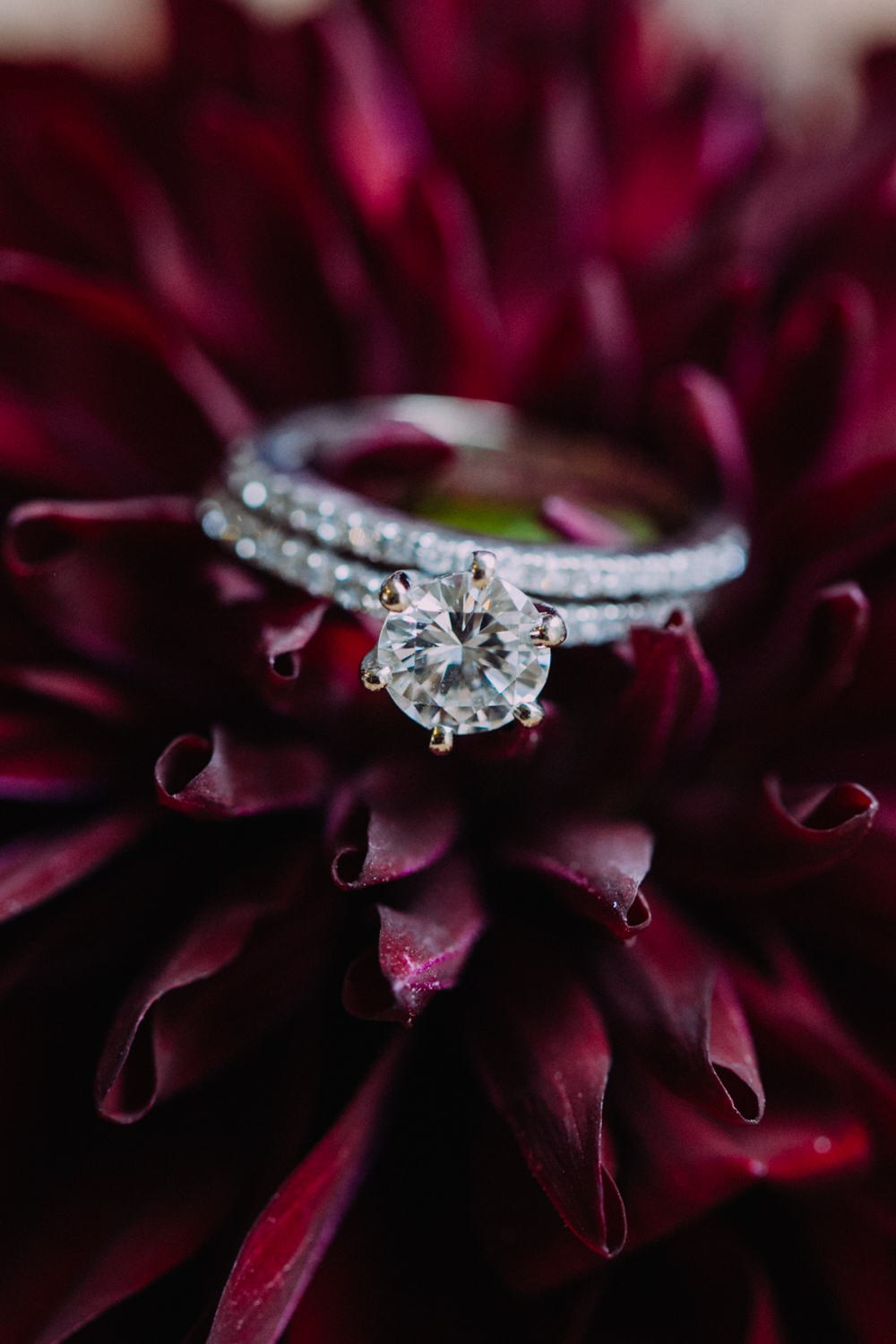 Our wedding programs had quotes all over them from our guests who gave us "words of wisdom" when they RSVPed. Plus, a fun sketch of me and Rachit I made!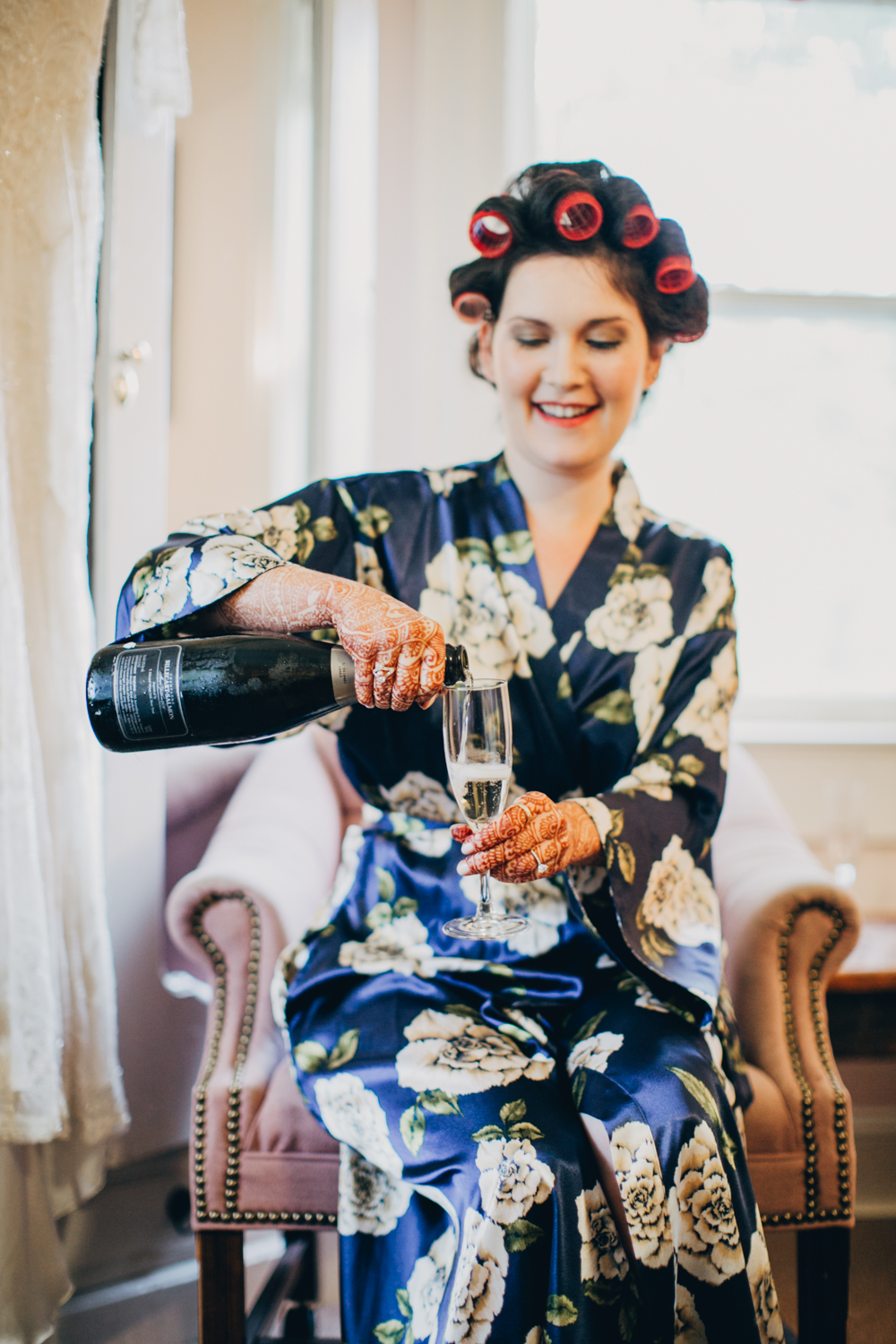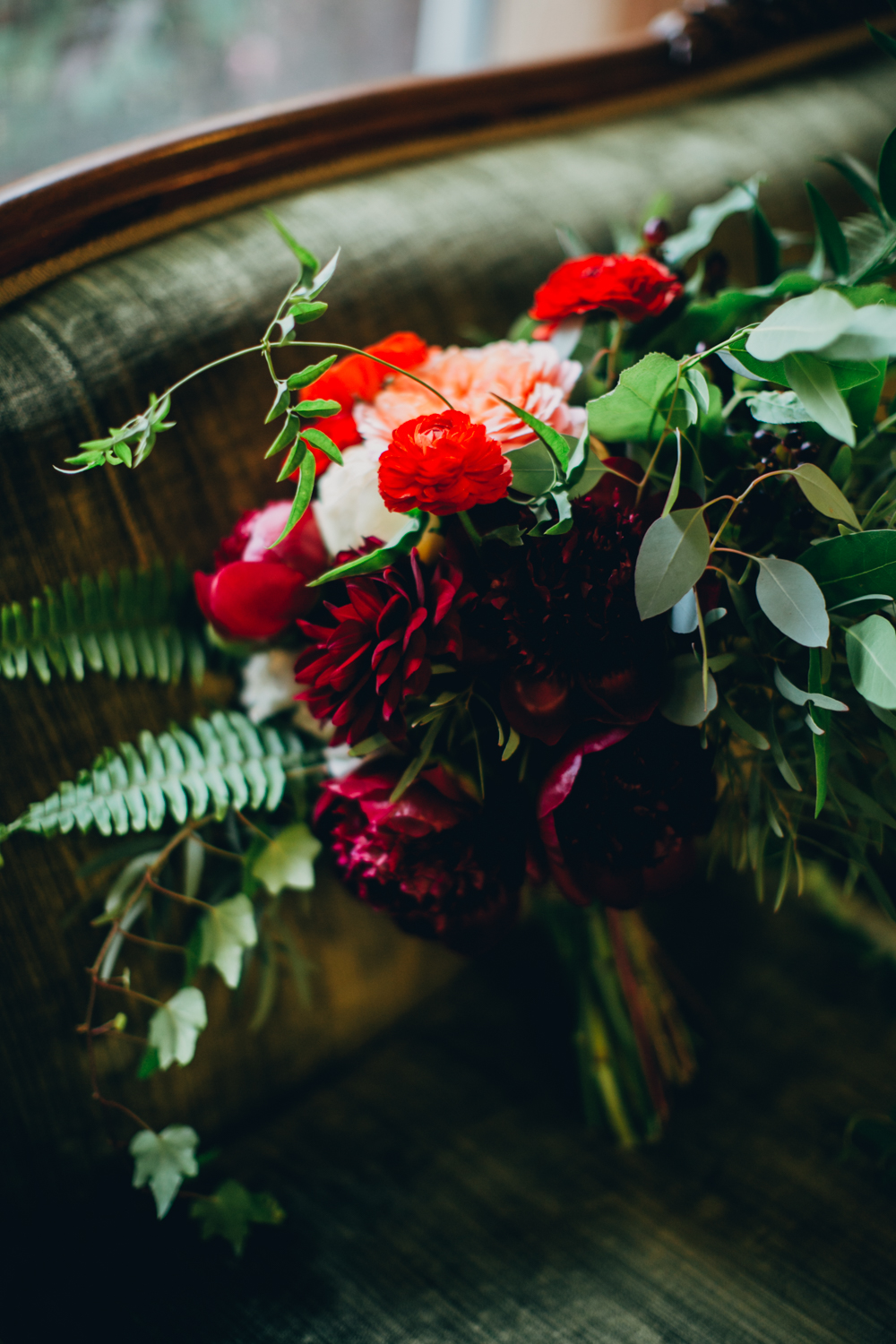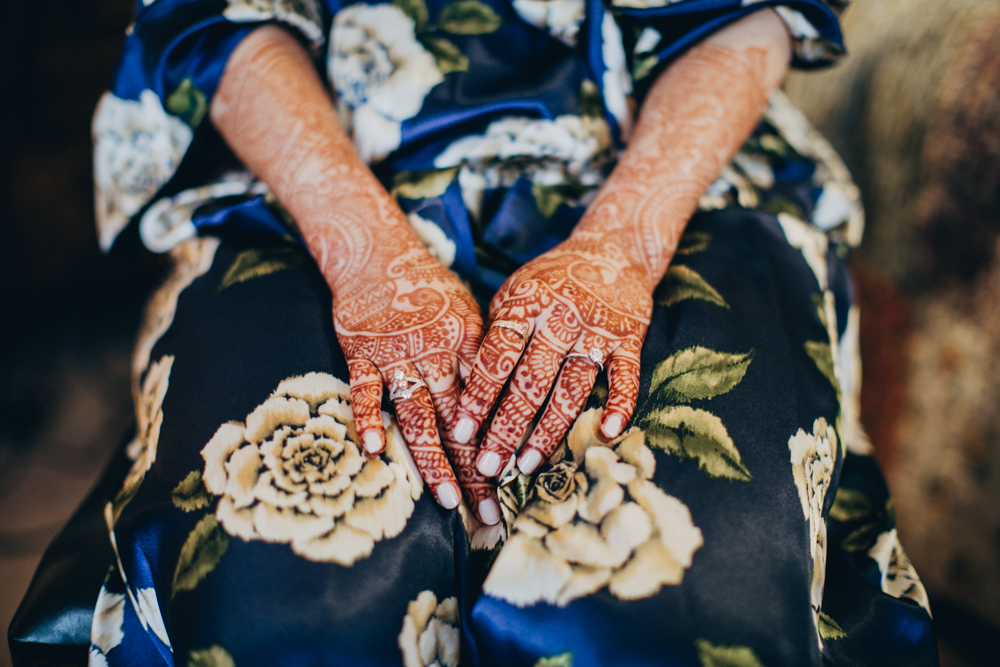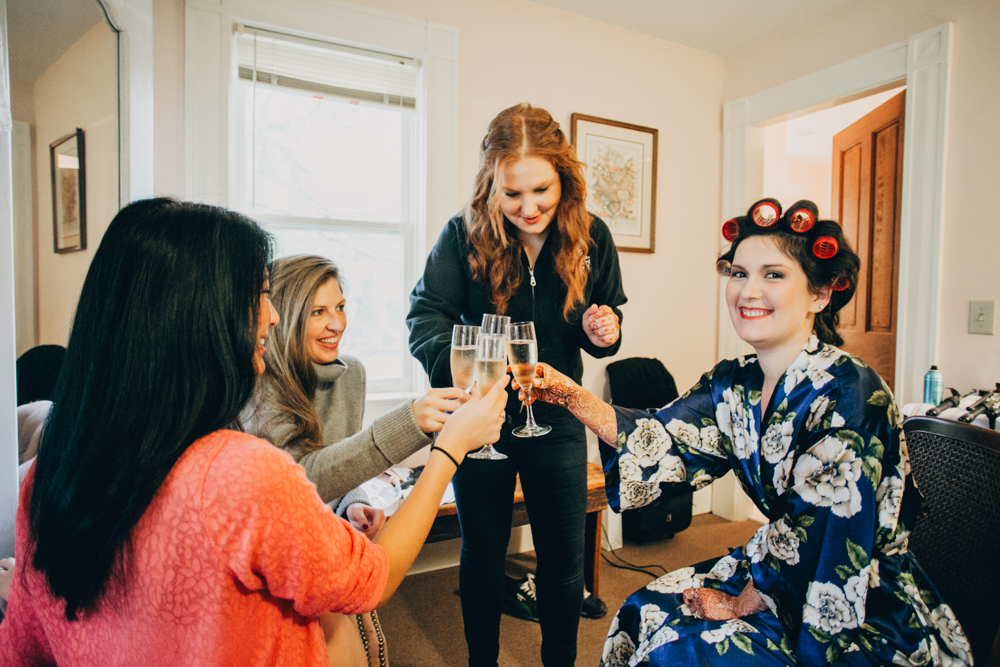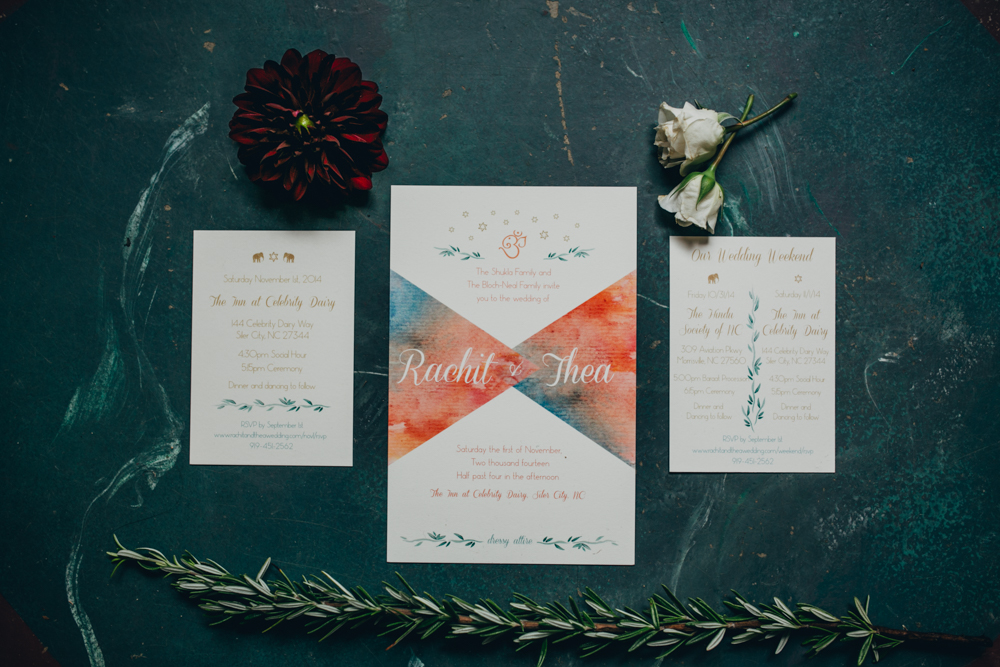 Getting the invites right was such a process! Making them yourself is very satisfying and save money, but trying to reign in everyone's design preferences is so hard! I love gestural imagery nd water color, Rachit loves clean lines. In the end, I did a lot of water color and then used that to "fill" the geometric shapes. I also threw in some hand painted leaves to tie it all together. Melding the Hindu and Jewish symbology was tricky, but fun!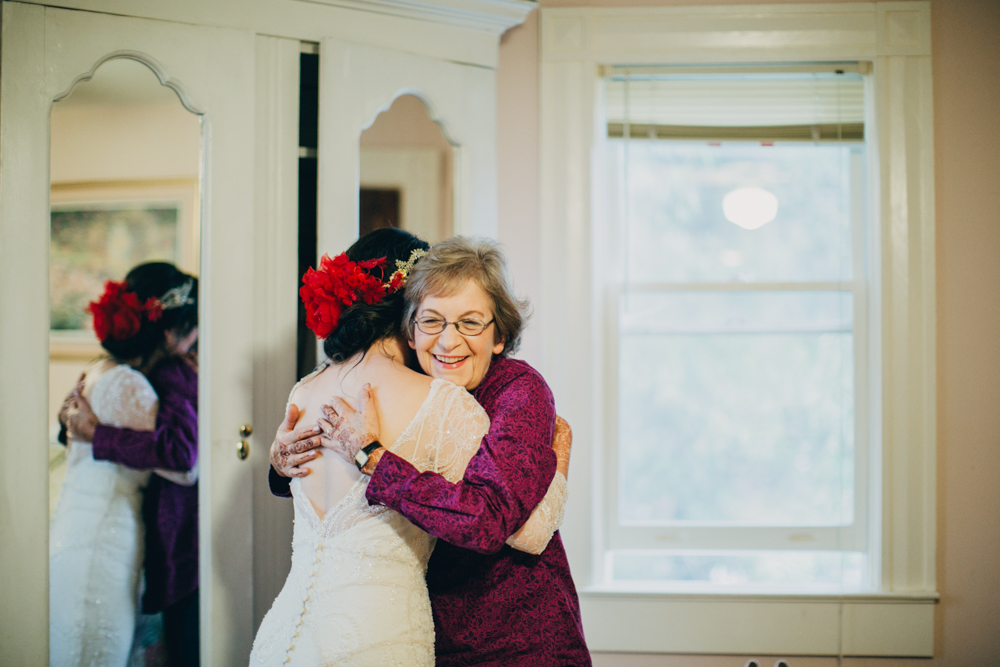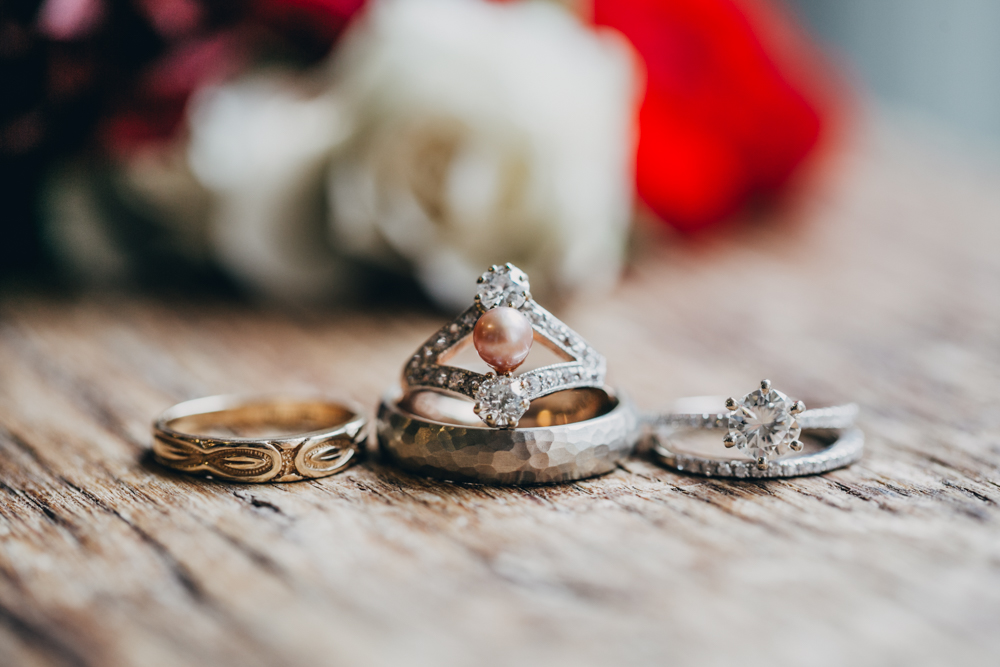 Left to right: a ring given to me long ago by a special elderly woman at my Synangogue / an heirloom ring from my mothers family / Rachit's hand crafted wedding band from Jewelsmith / My custom hand crafted rings from a designer in NYC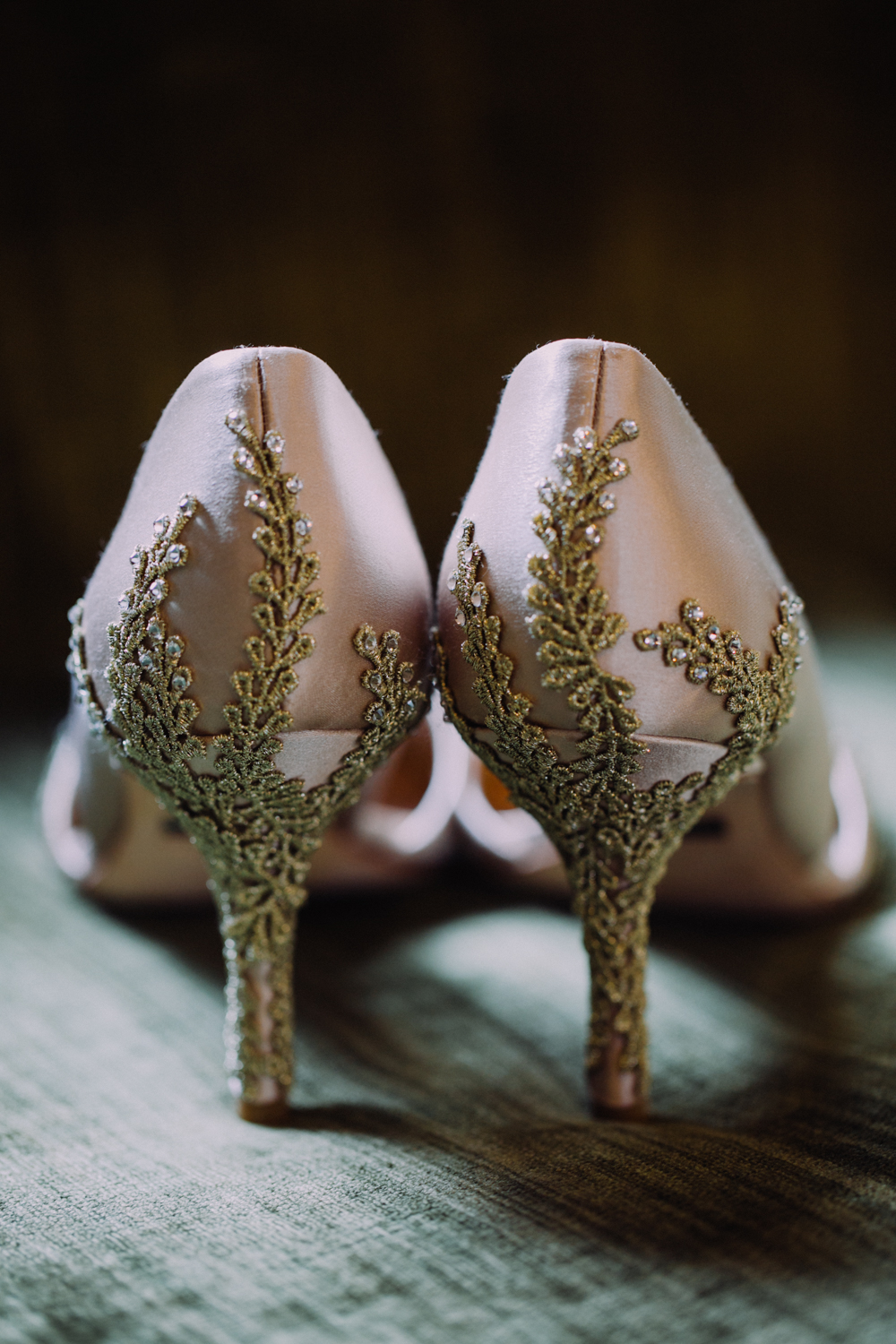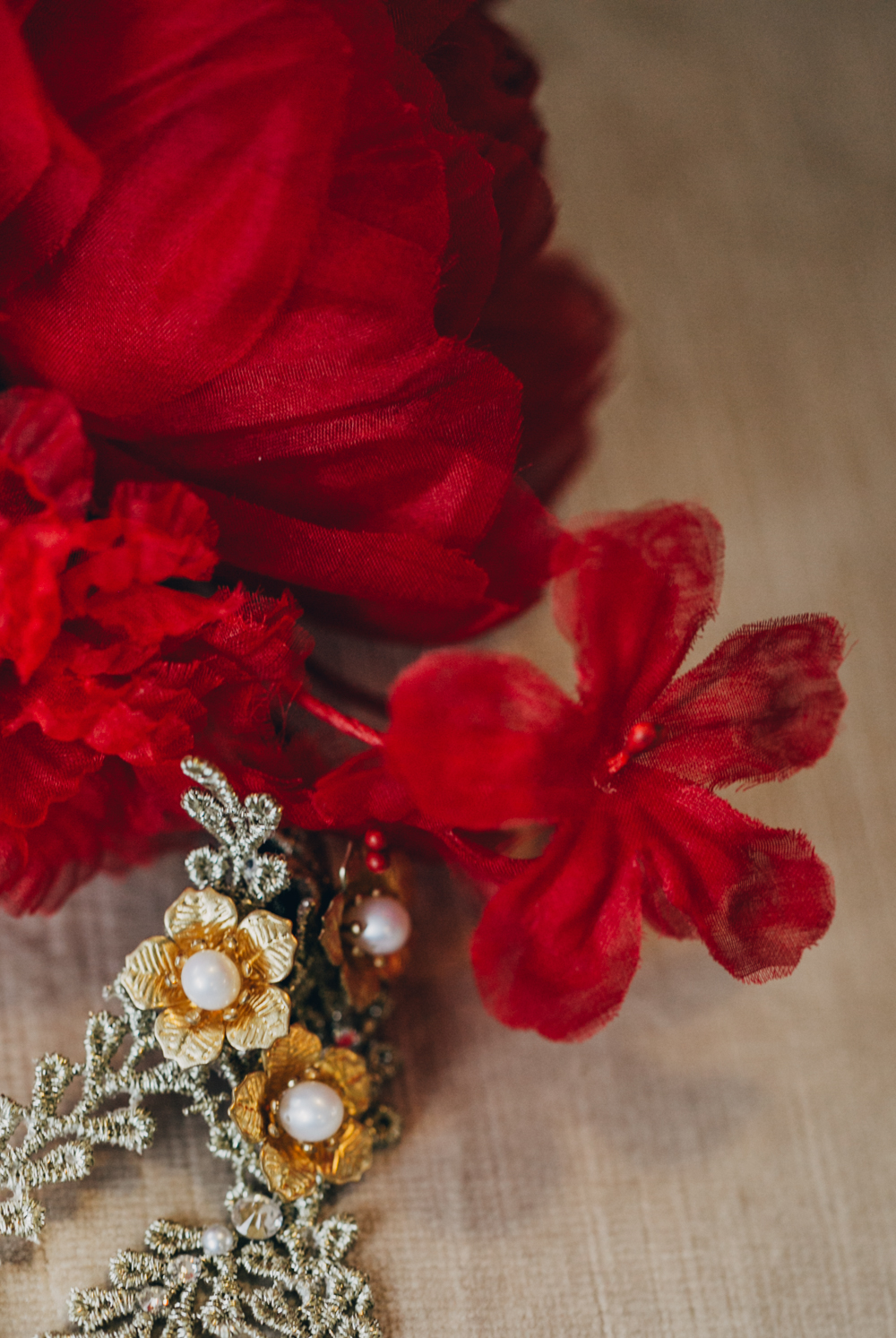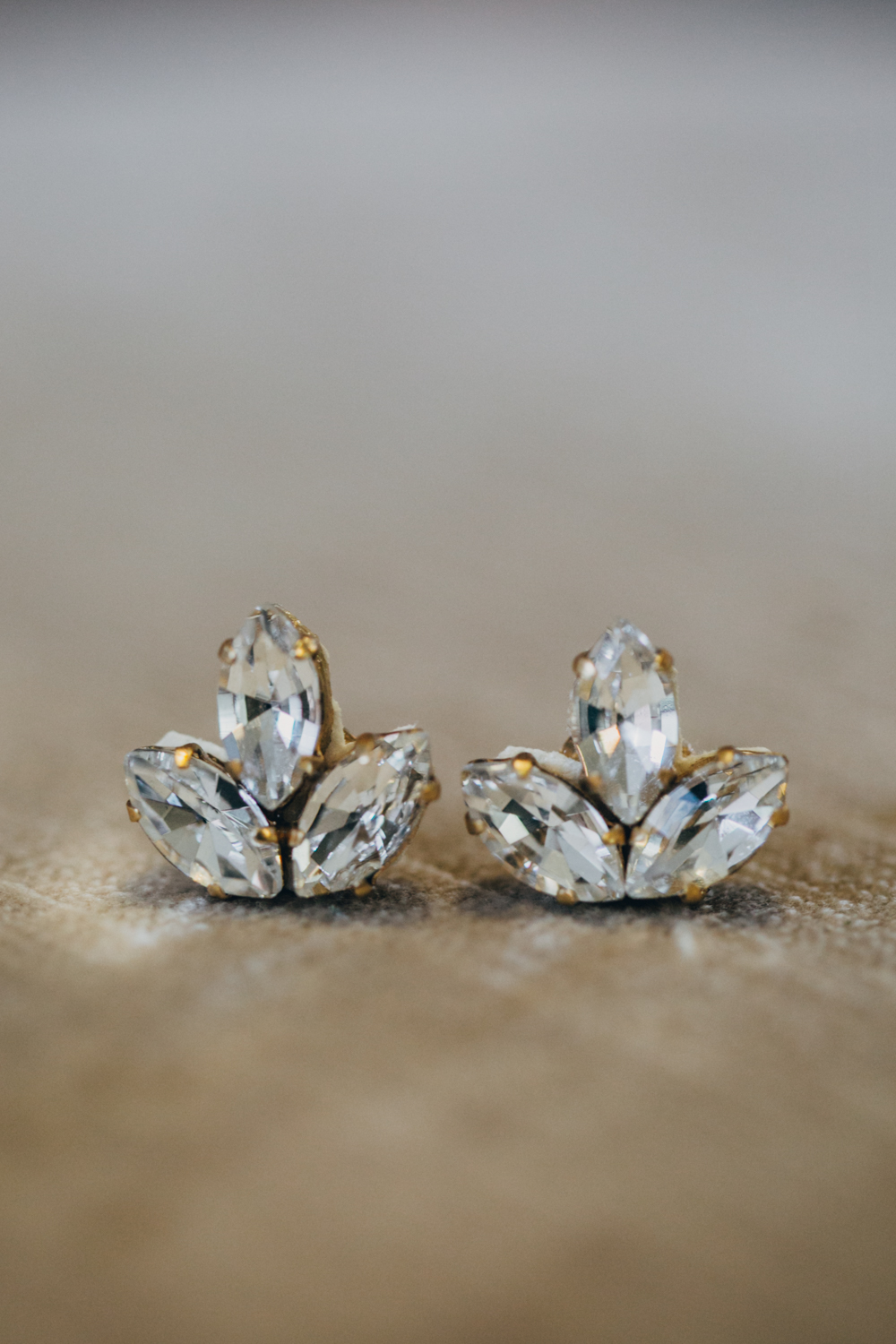 Custom earrings I made for myself / Badgley Mischka shoes that I redesigned with embellishment to match my headpiece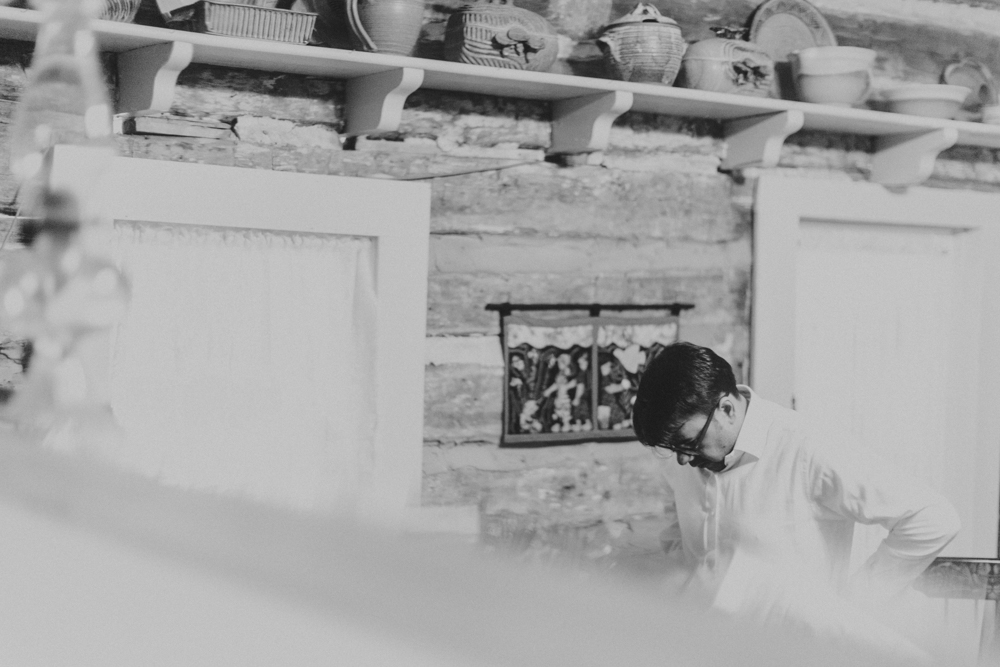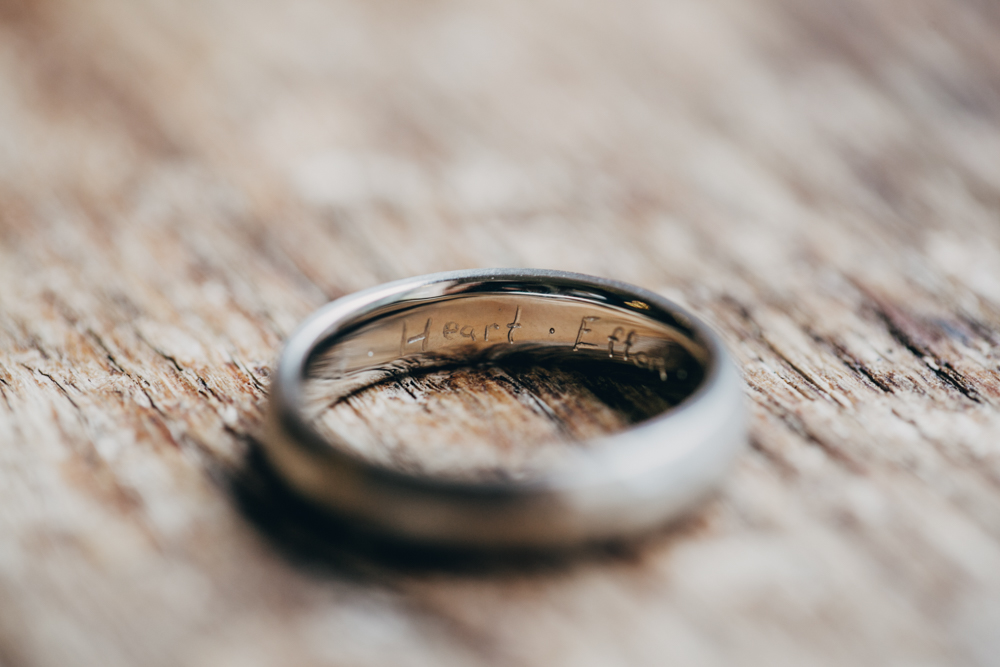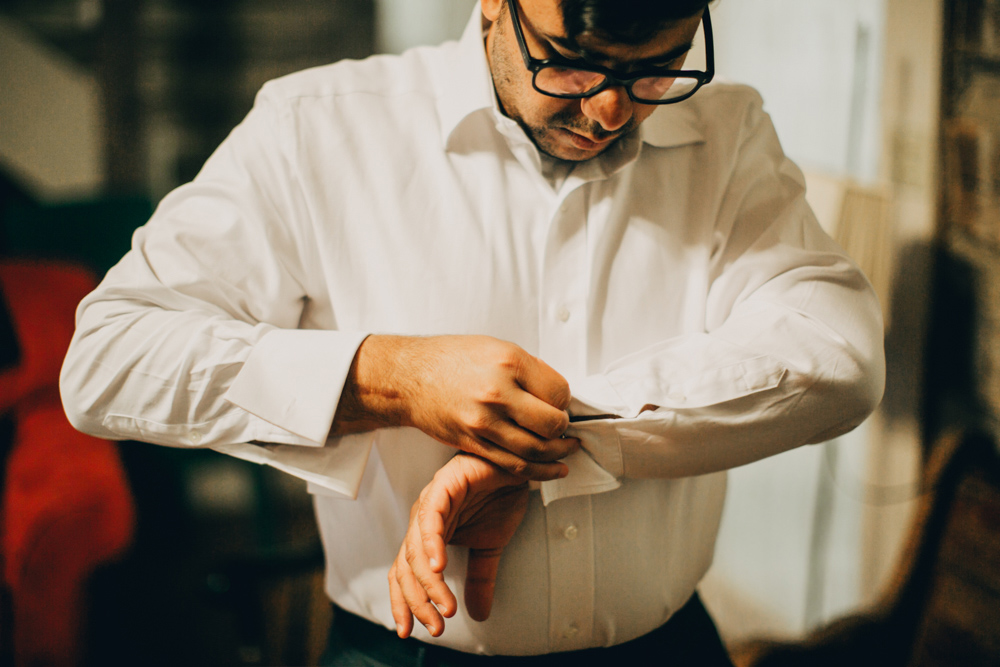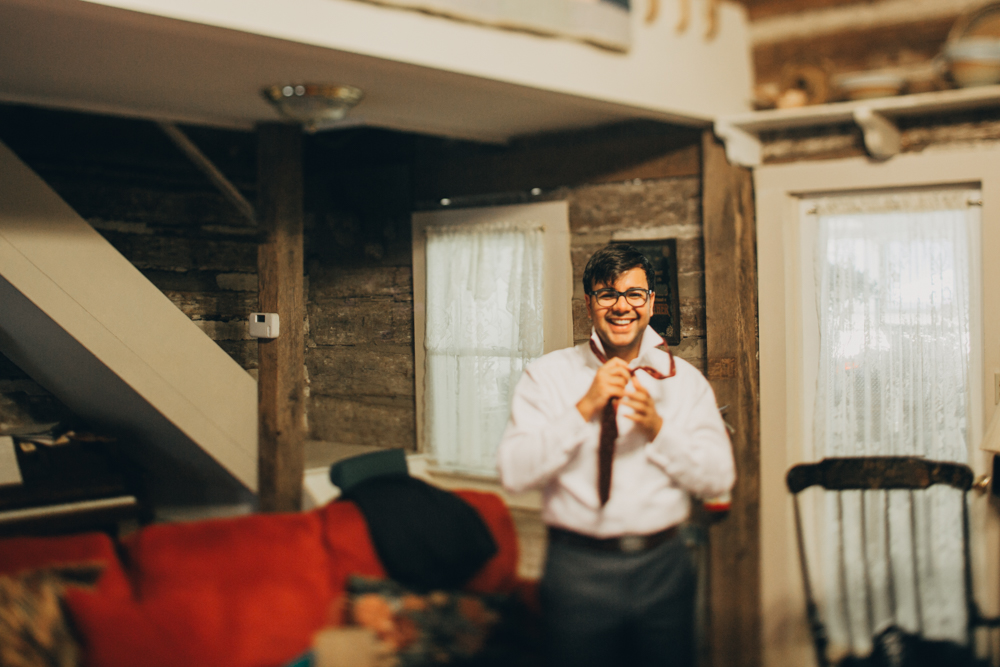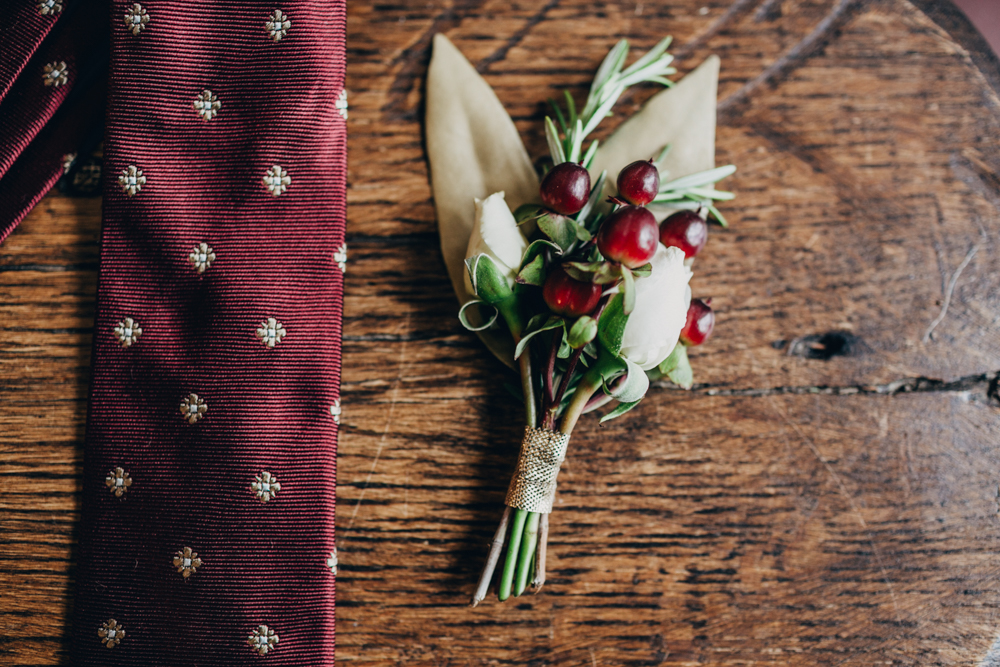 Rachit's custom suit from MySuit!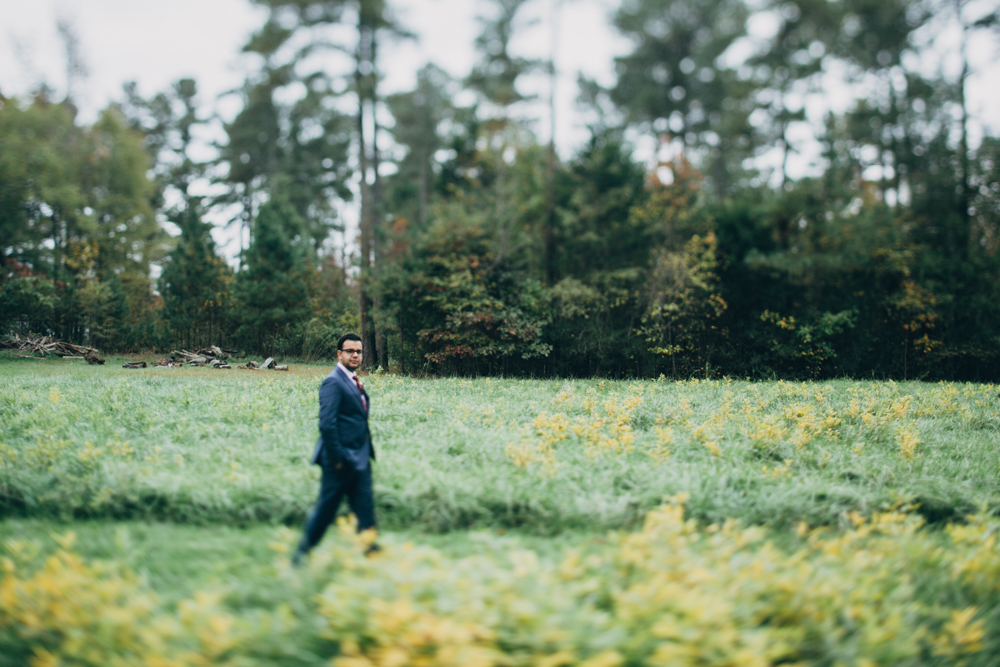 My dress is from my dear friend Rebecca Schoneveld, she helped me customize her "Gemma" gown by adding a sleeve, raising the lace neckline, and lowering the back.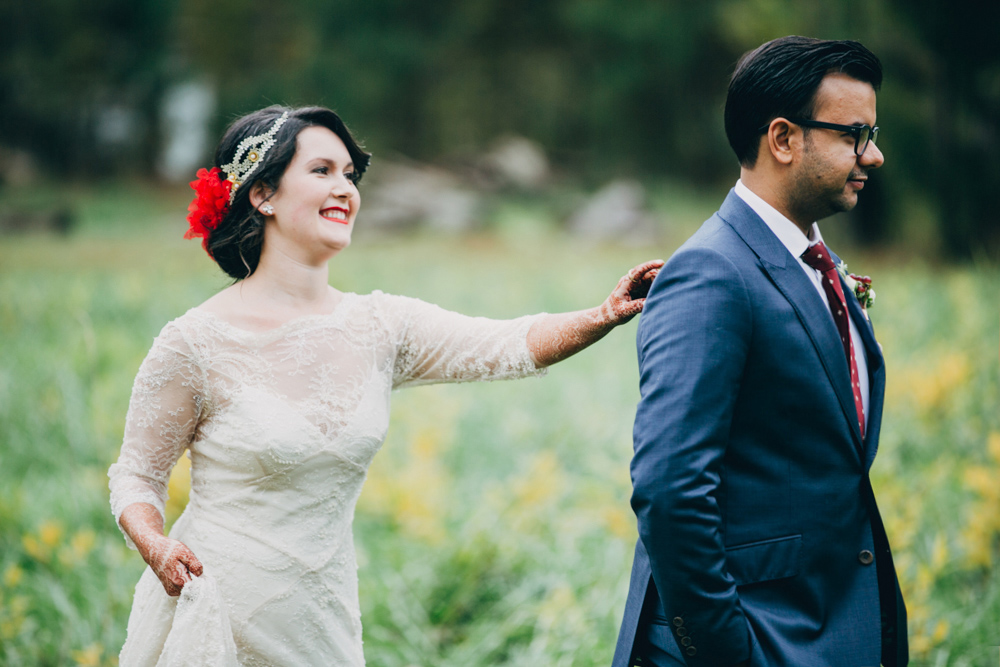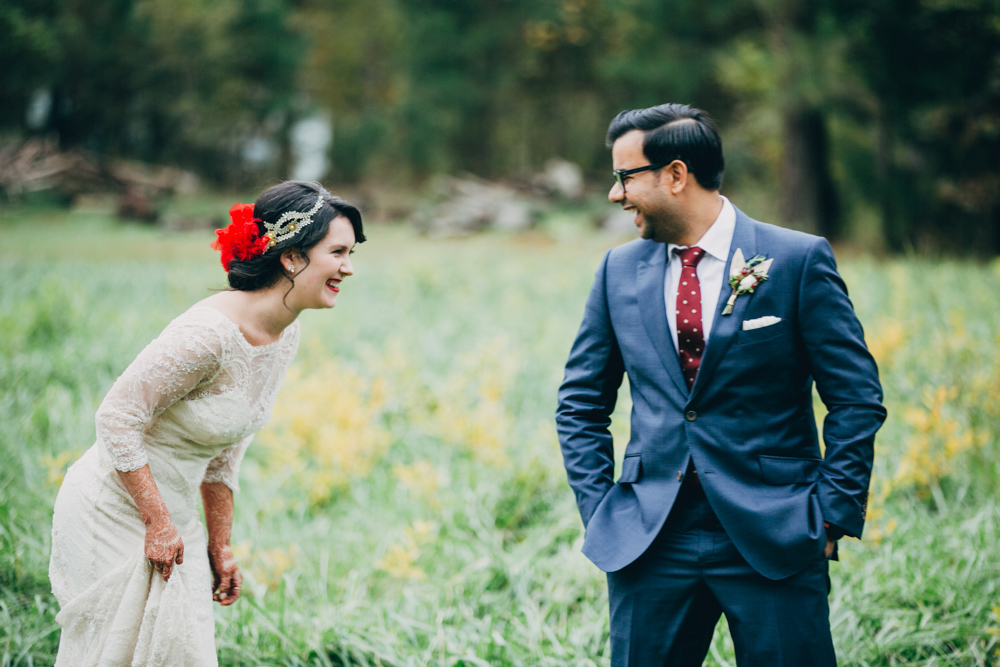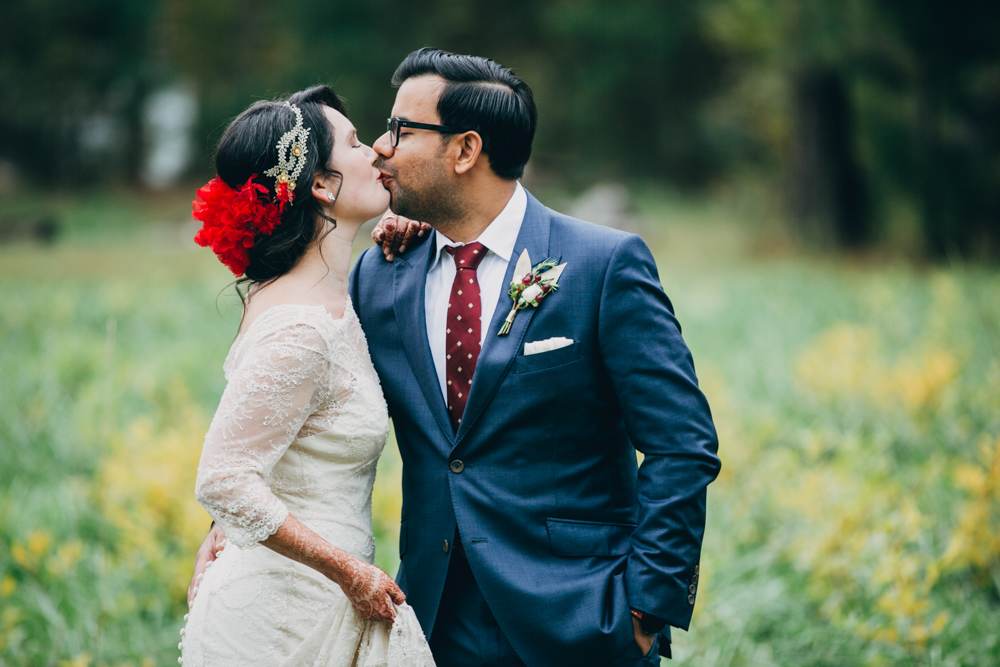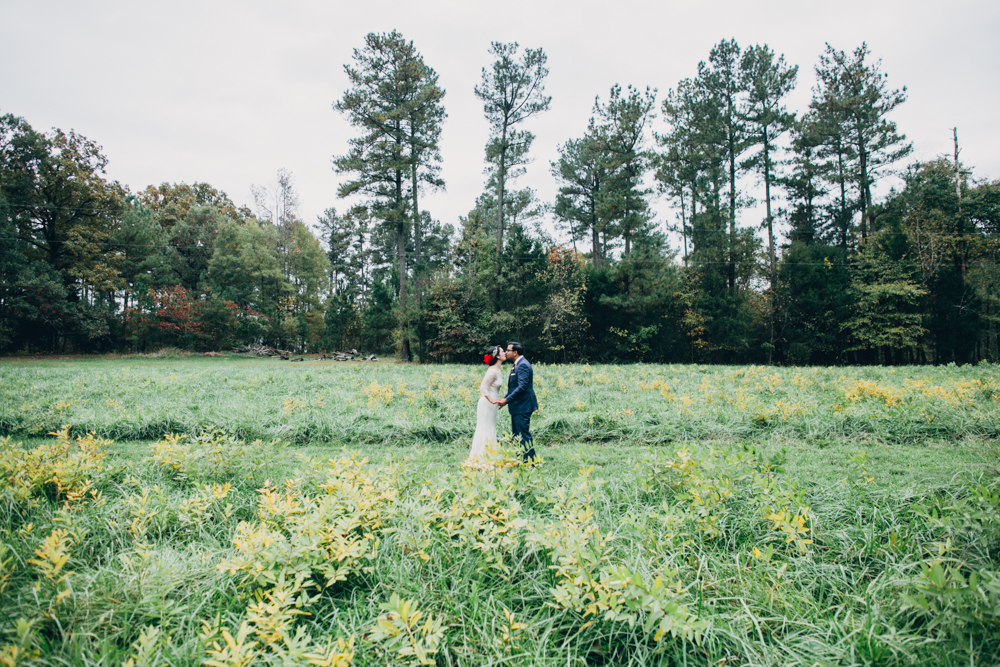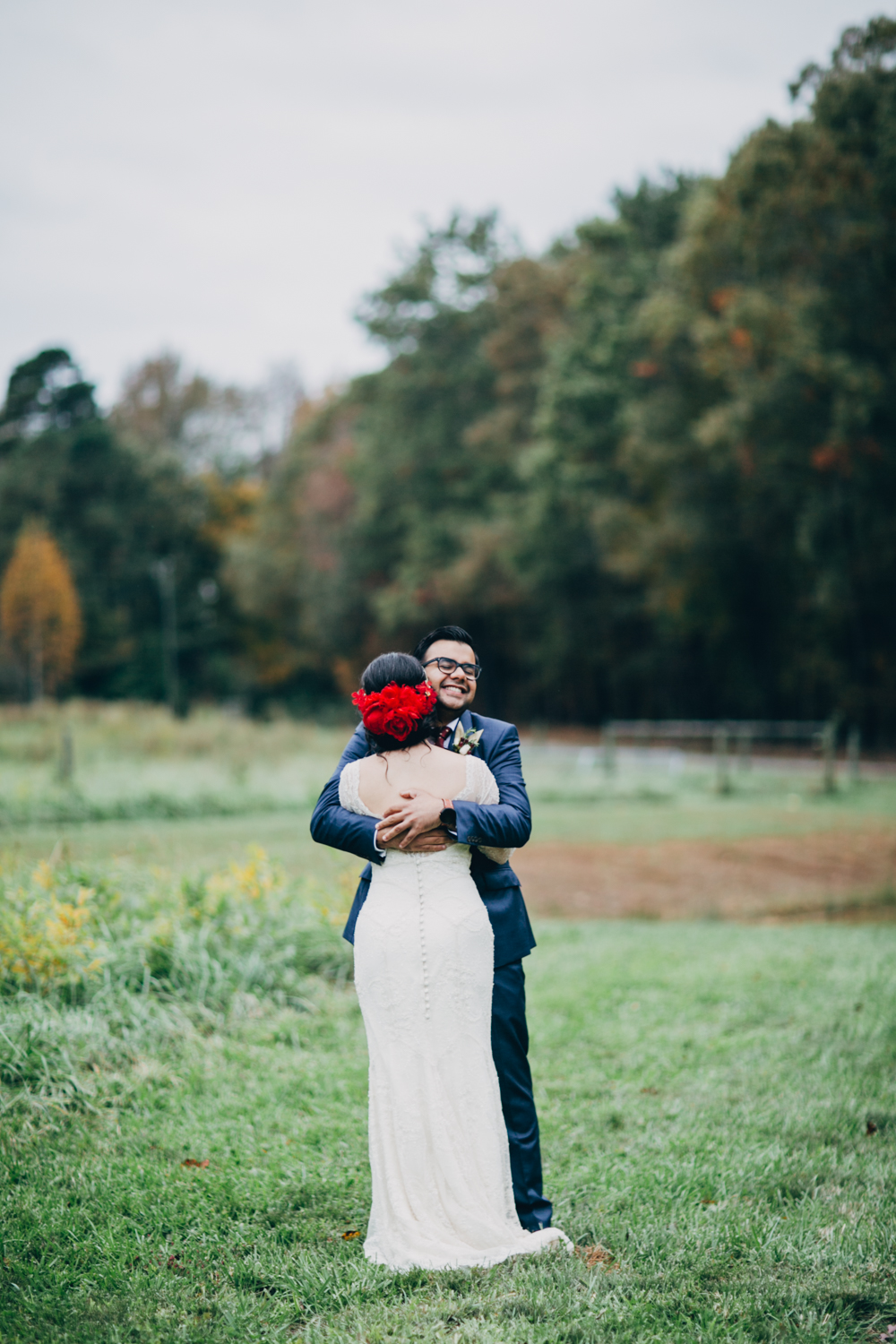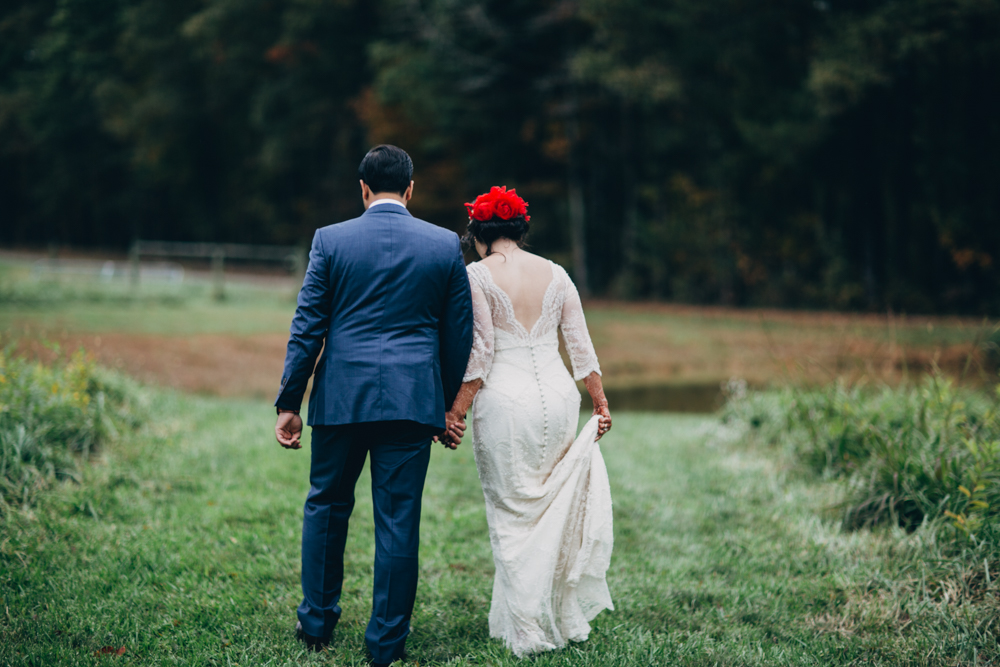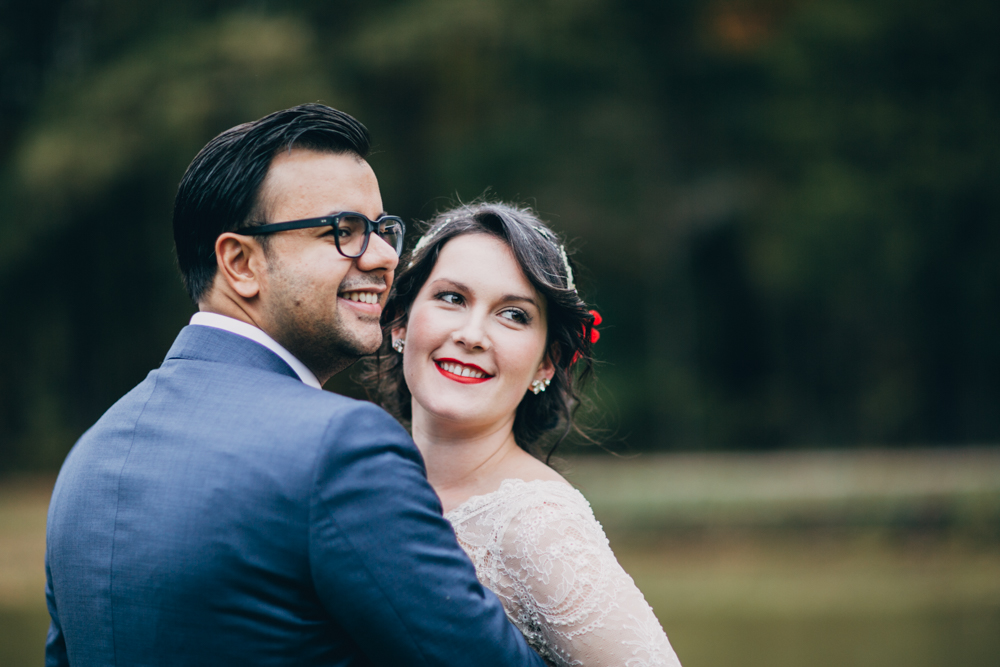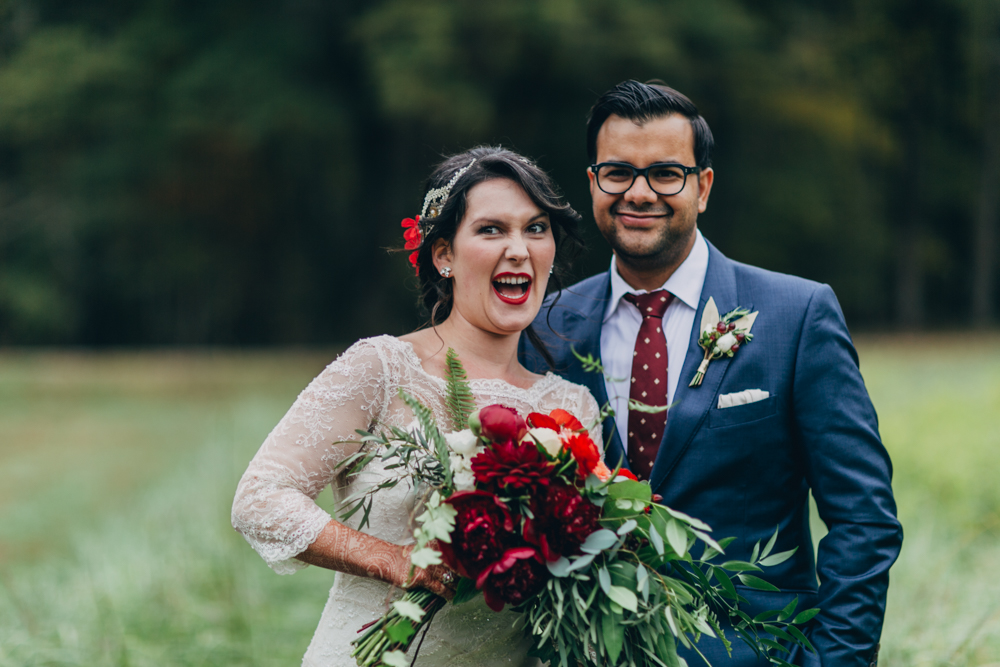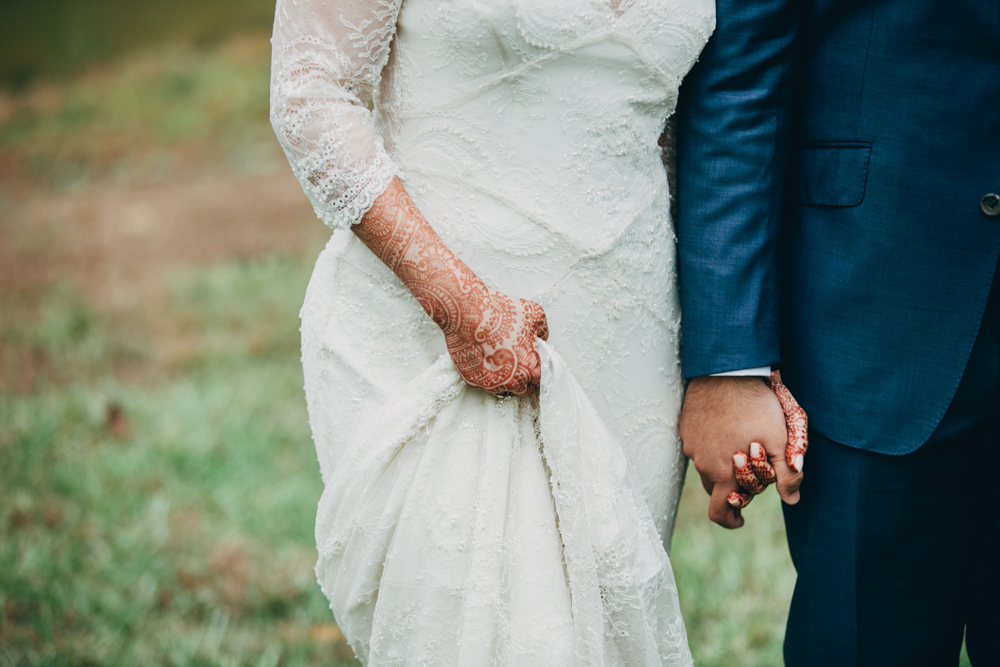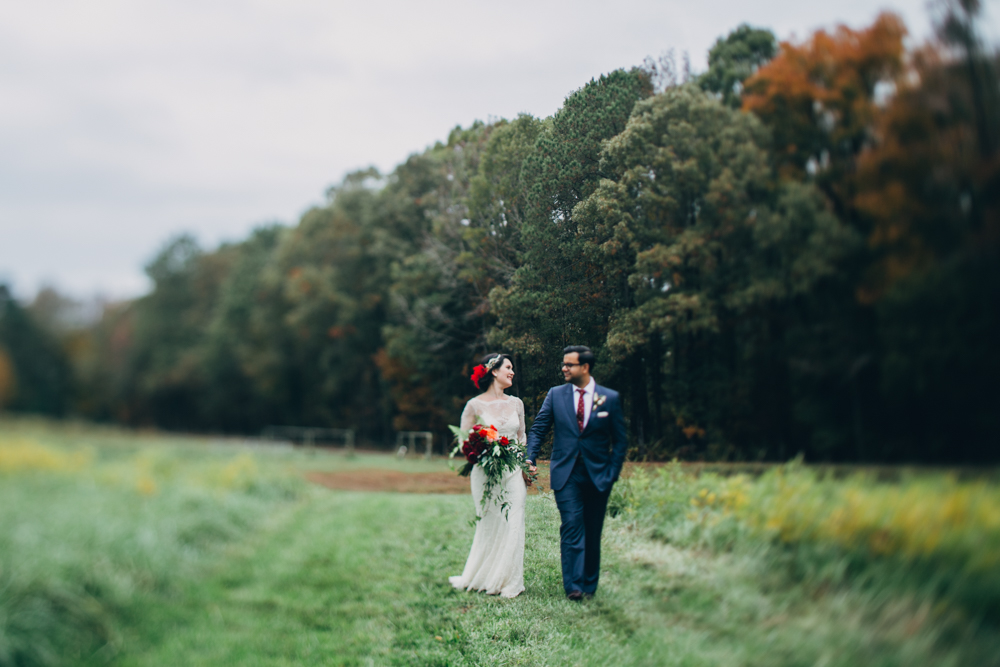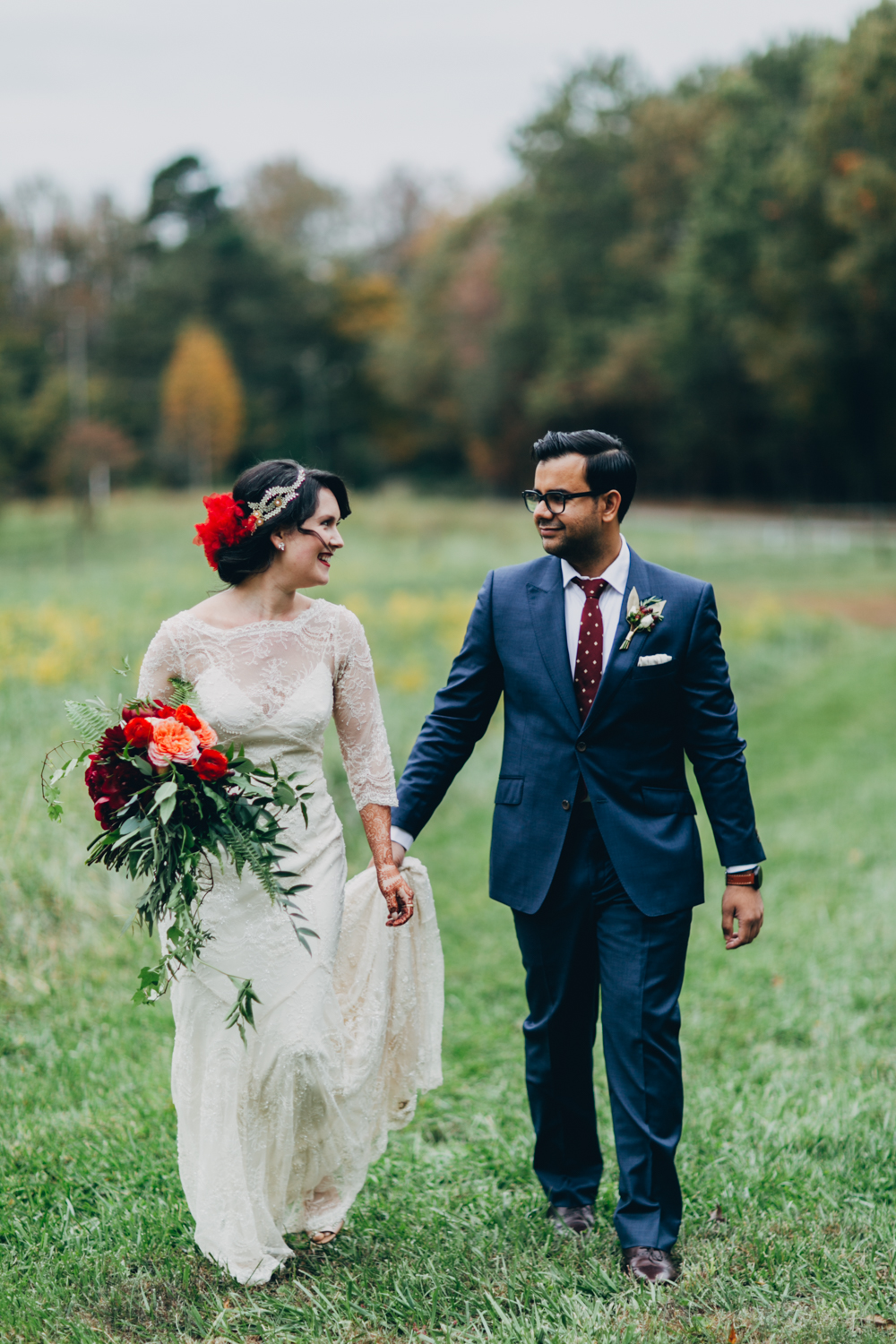 My custom headpiece! I designed the silk flowers and had them made in NYC, and then of course I added lots of rustic detailing and gold!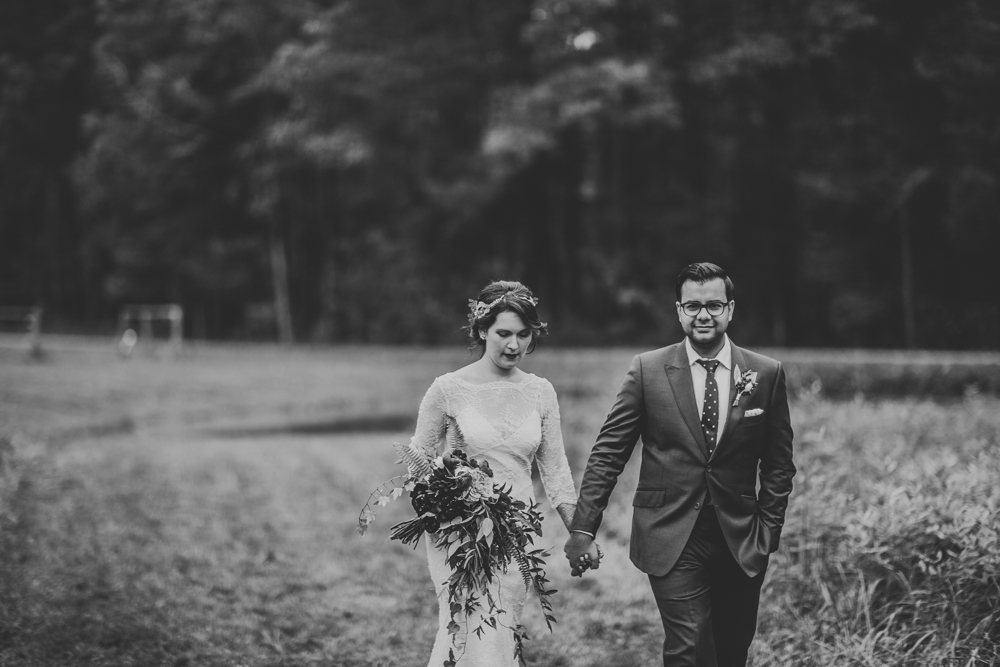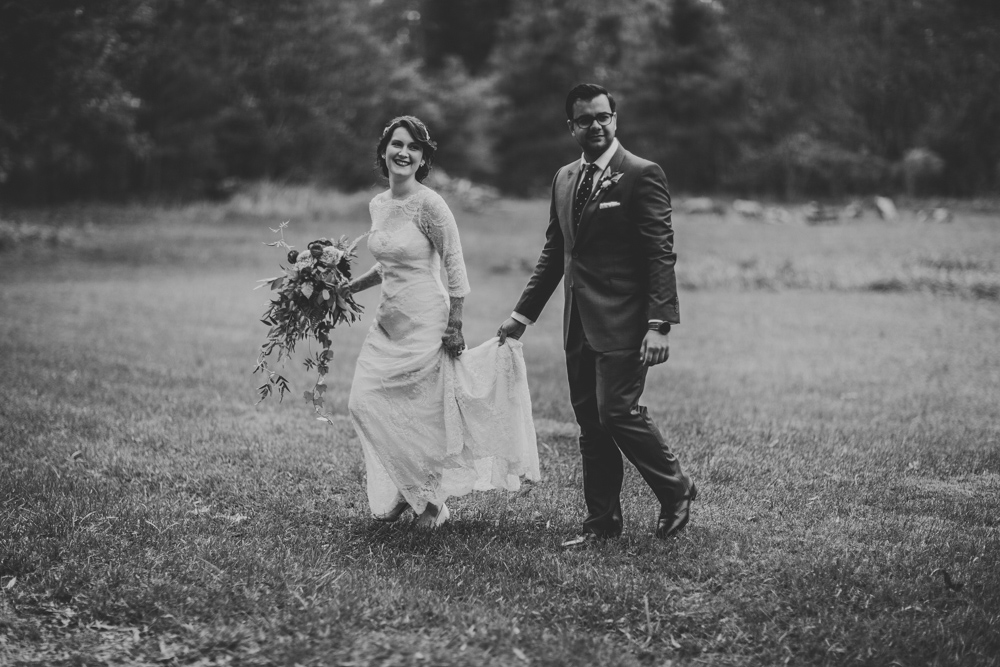 My to-die-for bouquet from Lindsay Rae Design!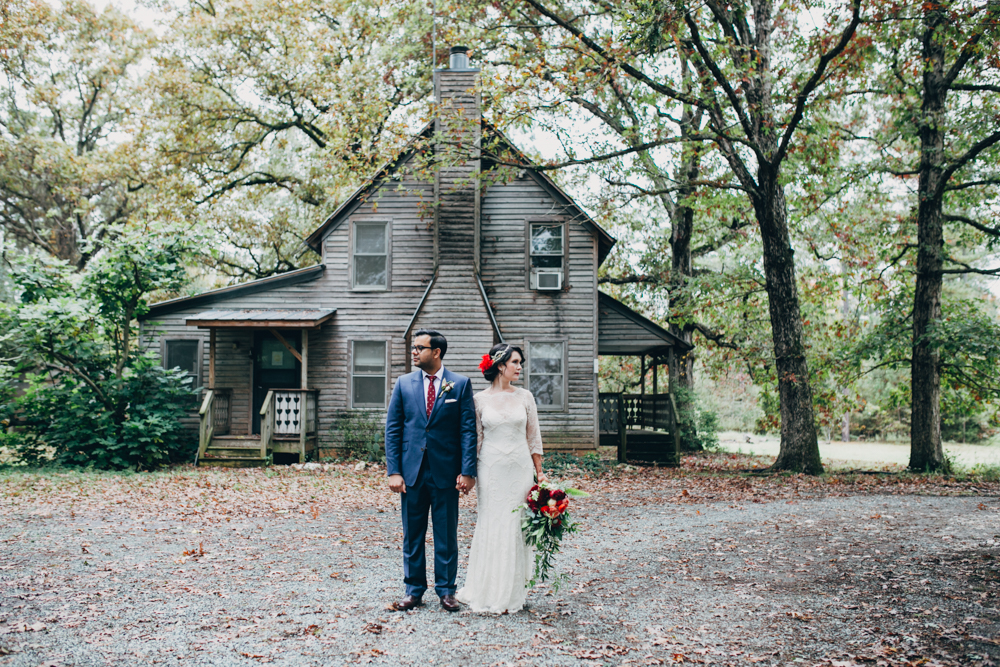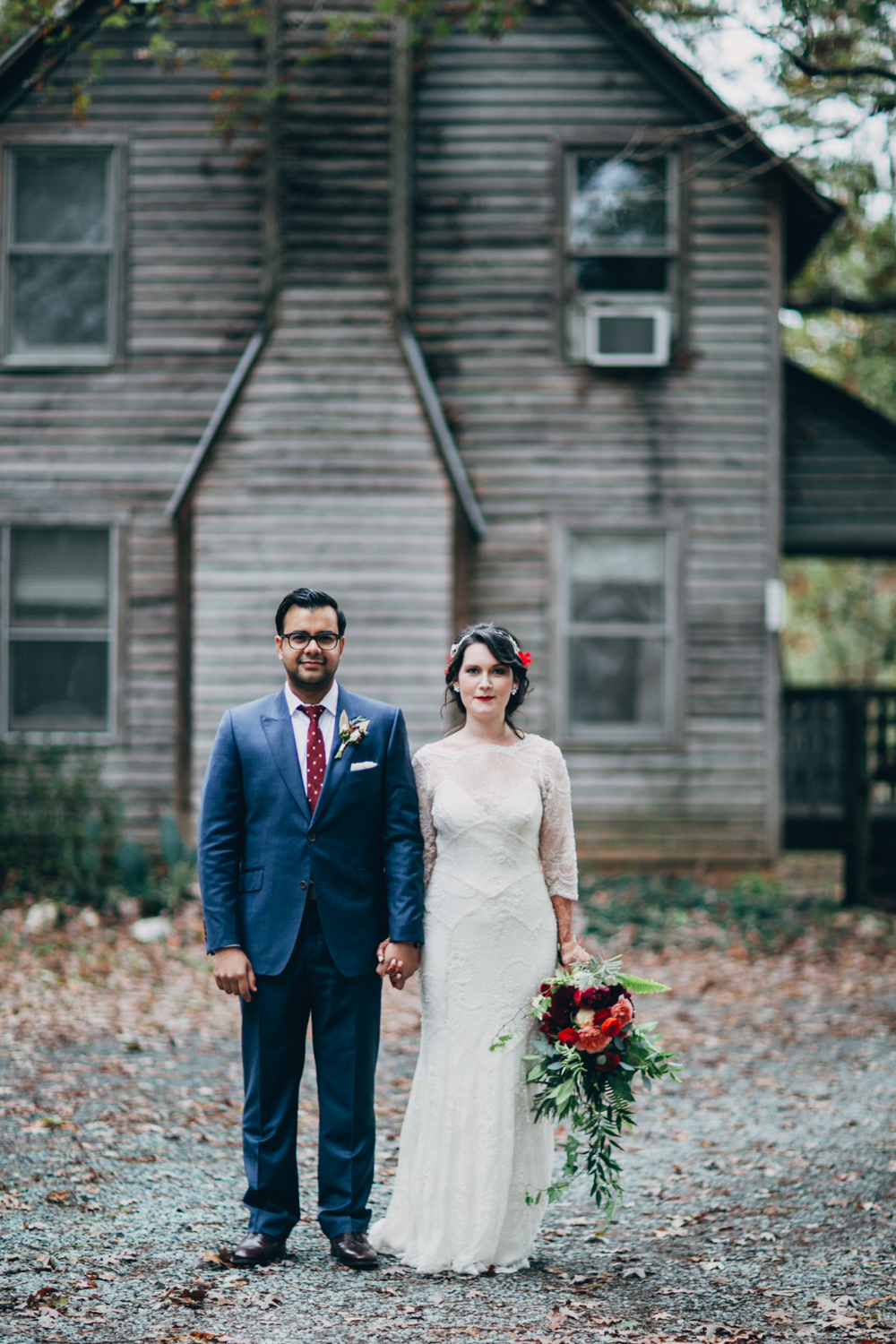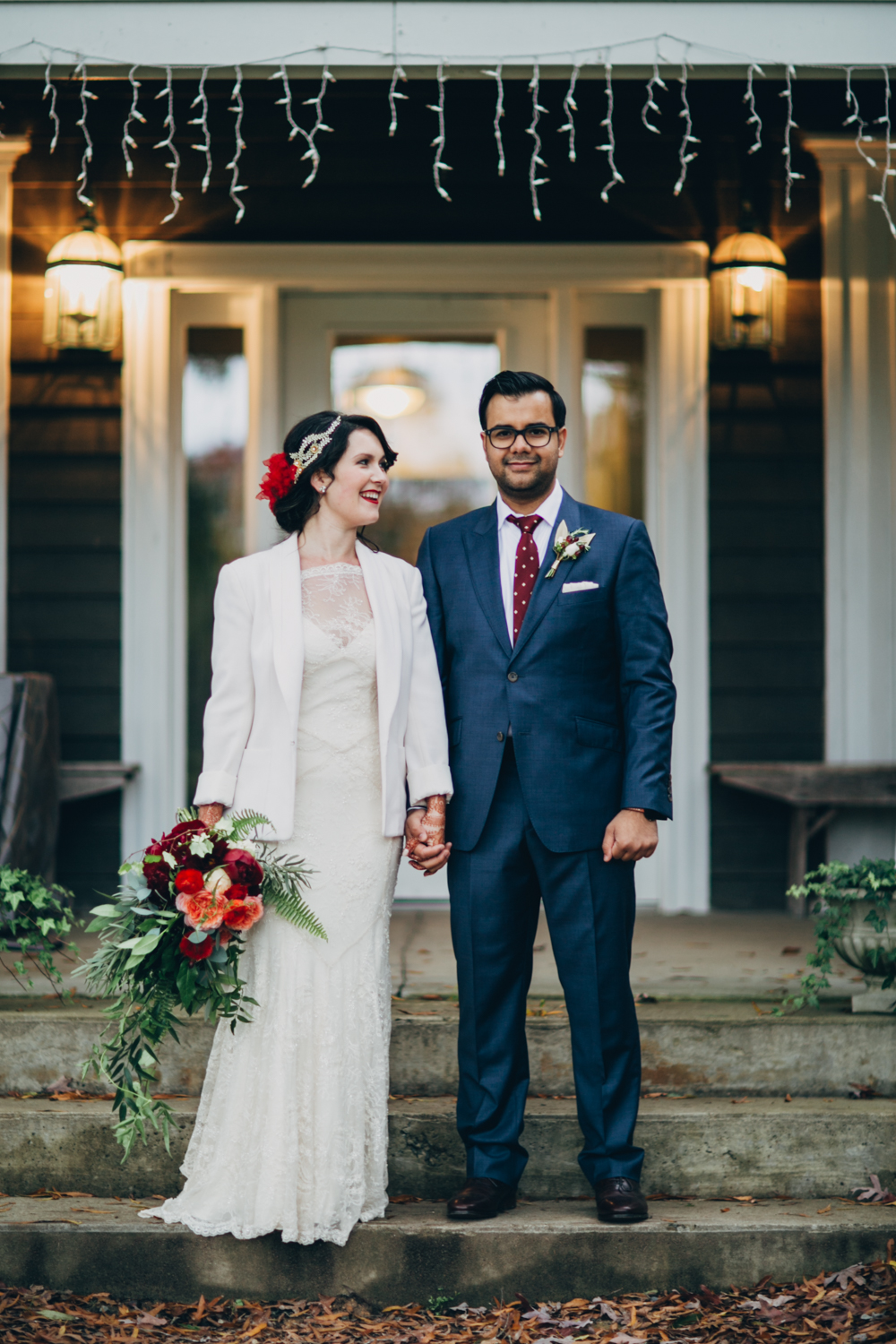 Even though we got married in NC, I knew the weather could be precarious, so I had a white blazer on hand! Fun to mix the modern with the vintage lace. Blazer is from Ann Taylor.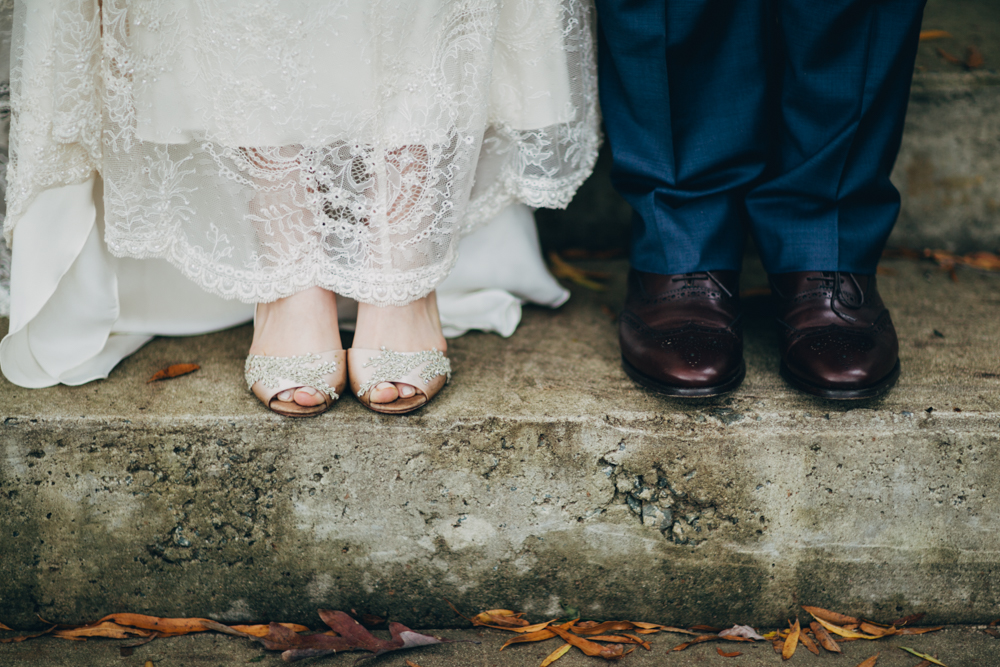 Photography: Amber Gress Photography
Location: The Inn at Celebrity Dairy, http://www.celebritydairy.com
Event planning: Chelsey of Gather Together Event Planning + Design, http://www.gathertogetherevents.com 
Catering: Celebrity Dairy Inn
Flowers: Lindsay Rae Design, http://www.lindsayraedesign.com 
Cake Topper: Anthony Lamberty, anthonylamberty.com 
Videography/Cinematography: Filmed by Birdhouse Productions (http://www.birdhouseweddings.com/)  and Edited by Love + Brain Films (http://lovebrainfilms.com/#wedding) 
Officiant: Saturday - Rabbi Andrew Ettin
Stationery: Designed by the Thea, printed by Rolling Press in Brooklyn, http://www.rollingpress.com 
Custom Wedding Dress: Rebecca Schoneveld, www.rebeccaschoneveld.com 
Wedding accessories: Hushed Commotion, The Bride!
Grooms ring: Jewelsmith
Hair: Stacy at StylesOnB, www.stylesonb.com
Makeup: Fiquet at Luxe Apothecary, https://www.facebook.com/luxebeautyboutique
Ketubbah: Galia Goodman, http://galiagoodman.com/home.html 
Cake: Details Cake Design, http://www.detailscakedesign.com
Music: Joe Bunn of Bunn DJ Company, http://bunndjcompany.com
Live Klezmer band: Freylach Time, www.freylachtime.com
Tent and Rentals: Party Reflections, http://partyreflections.com
Linens and Draping: Party Tables, http://www.partytables.com
Decor Furniture: Paisley & Jade, http://paisleyandjade.com
Lighting: Get Lit Special Event Lighting
Transportation: Carolina Livery, http://www.carolinalivery.net/